2011 Year-End Review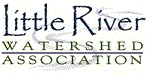 Everyone loves the Little River. It's a natural treasure and one that needs to be safe-guarded. But the truth is the Little River shows increasing signs of degradation as it travels from the high reaches of the Smokies, through our community, and into the mouth of the Tennessee River. 
The Little River Watershed Association (LRWA) is the only organized voice of the river. Since its founding, the organization has embarked on important programs to monitor the water quality, host river clean-ups and conduct educational programs for our schools and community. 
---
This year, with your support, we have been able to accomplish the following work: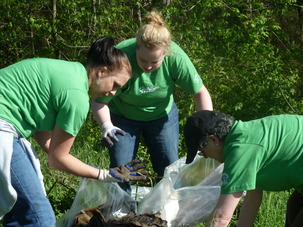 • We maintained a 5-mile section of the Little River located in Walland as part of the national Adopt-A-Stream program. As a result of our regular clean-ups, we have removed over 2,500 lbs. of trash and debris from our river corridors. 
• We hosted the first annual Little River Fest, (formerly called Little River Roundup and Earthfest), a day-long river cleanup and afternoon celebration for volunteers at River John's Island. 
• We conducted watershed educational programs and gave presentations to area civic groups in Blount and Sevier Counties. 
• We conducted our Annual VIP Canoe Floatilla for community leaders. This is an educational opportunity to give local officials and community leaders a hands-on experience of issues concerning the Little River and its watershed. 
• We initiated Little River Watershed 101, a community-wide program providing educational opportunities about Little River. 
• We hosted our 6th annual Winter Gala at the Clayton Center for the Arts with over 150 in attendance. 
• We maintained both Facebook and website pages to help the community stay in touch with our activities, and to provide go-to resources about the Little River. 
• We facilitated the Little River Water Quality Forum, a group of stakeholders comprised of 25 agencies and organizations in support of preserving ecological biodiversity by improving water quality of the Little River. 
• We assisted UT Fisheries students in efforts to remove rock dams and educate Townsend visitors about river stewardship. 
• We participated in Troutfest, one of the largest fly fishing expos in the Southeast. 
• We participated in Louisville's annual Octoberfest. 
• We participated in the National Park Service's native brook trout relocation on the Middle Prong of the Little River. 
• We participated in the 24th annual aquatics survey by Tennessee Valley Association, University of Tennessee, Tennessee Wildlife Resources Agency and Tennessee Department of Environment and Conservation. 
• We completed a water sampling project in Townsend with help from TDEC and the Great Smoky Mountains National Park.
• We participated in World Water Monitoring Day in December, 2011. 
• We attended public hearings on Pellissippi Parkway Extension, Blount County Campground Regulations, and local Chamber of Commerce Legislative Coffees. 
• We participated in the first round of stakeholder"s meetings conducted by PlanET, a regional partnership of East Tennessee Communities.
• We applied for and were accepted as an Associate Member of the Tennessee Chapter of Community Shares. 
• We conducted an online stakeholder's survey and follow-up strategic planning and realignment. 
• Our board and volunteers logged over 900 volunteer hours in 2011, and we are looking forward to new programs and partnerships in 2012.
---
Annual VIP Canoe Floatilla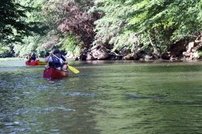 2011 Floatilla participants had the chance to enjoy the beauty of the river and learn from technical experts about the plants, fish, macro invertebrates and animals found in Little River. Experts also discussed regulatory issues and land management as it relates to safe drinking water.
Dr. Bobby Simpson (UT Dairy Farm), Jack Graham (City of Maryville Water Quality Control), Larry Everett (TDEC), Joyce Coombs (UT Forestry, Wildlife, and Fisheries) and Justin Teague (Blount County Storm Water) helped the watershed association host this special event.
---
Little River Watershed 101

In November, the Little River Watershed Association held the inaugural lecture in its "Little River Watershed 101" Education Series at the Blount County Library. Joyce Coombs and Adam Jaeckel from the University of Tennessee Wildlife and Fisheries department jointly presented "Darters, Damselflies, and Rock Dams." This was the first in a quarterly speaker and outdoor education series focusing on the Little River.
---
Mark your calendars for LRWA events in early 2012!
Little River Watershed 101: February 21st

LRWA Winter Gala: March 3rd

Adopt-a-Stream:  March 17

Little River Fest: May 5th
Note: Our main fundraising event, the LRWA GALA will be held at the Clayton Center on Saturday, March 3rd.  Tickets will be on sale on our website once the formal invitations are issued.  If you would like to help with the fundraising please see the link below.  We are seeking sponsorships and donations from vendors and artisans.  All sponsors will be formally recognized.
Thanks for your support in 2011, and we look forward to a prosperous 2012!
---
About the Watershed Association The Little River Watershed Association is a 501(c)3 non-profit organization. Our goal is to promote the uniqueness of this river, to identify the threats and problems that face this river and the watershed, and to provide the community with fact-based resources.